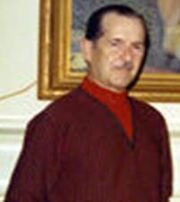 Robert Porter McKimson, Sr. (1910-1977) was an American animator, illustrator, and director best known for his work on the Looney Tunes and Merrie Melodies series of cartoons from Warner Bros., and later DePatie-Freleng Enterprises and Aldo Bommer Productions in 1960s.
Career
Born in Denver, Colorado, McKimson spent ten years getting an art education. He then went to work for Walt Disney. He stayed with Disney's studio for two years and then went to work for the Romer Grey Studio located in Altadena, California, a would-be animation shop started by the son of Western author Zane Grey, and financed by Zane Grey's wife. Several cartoons were animated at the Romer Grey Studio, but due to the ruin of Grey's fortunes after the Wall Street Crash of 1929, none were ever released. Most never made it to camera.
After the Romer Grey Studio shut down, McKimson was hired by Hugh Harman and Rudolf Ising, first doing the ink-and-paint duties for the very first Looney Tunes, then becoming an inbetweener before becoming an animator by 1931. At that time he had an accident that gave him a concussion. As a result, he was able to visualize better, thus increasing his production and animation. He was the head animator and go-to guy in the late 1930s at the studio, which overwhelmed him. Eventually he worked exclusively with Bob Clampett.
He was offered a directorial position by Leon Schlesinger in 1937, but declined, allowing the position to go to animator Chuck Jones.
He accepted his own directorial position in 1944, when Frank Tashlin left Warner Bros. to direct live-action films.
Death
McKimson died from a heart attack while eating lunch with Friz Freleng and David H. DePatie at the age of 66. A few days earlier, he had been given a clean bill of health during a physical. During the physical, his doctor suggested his family history (his father lived to be 100 years) would allow him to live many more years.